A few months ago I stumbled upon an abundance of antique dough bowls from Hungary and Germany on sale at a local flea market. I had been wanting a dough bowl for a long time but didn't want to pay the price for the ones I was seeing at stores like Pottery Barn or other chain home design stores – especially because I wasn't convinced they were authentic.
The ones at the flea market were huge! And they were about a quarter of the price of ones I had seen at Pottery Barn, but yet they were four times as big! AND, they were authentic. I was so excited!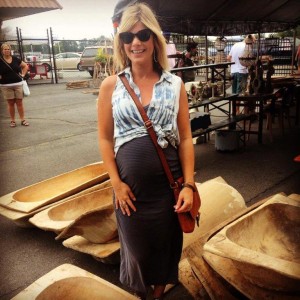 My sister and I searched for just the right one – aged but not chipped, big but not too big to use for decorating. And as we searched and moved them around, a crowd gathered around us, wondering what the fasciation with these unusual objects was and why we were so excited. I kept hearing people talking:
"Is it an old fashioned bathtub?"
"Is it a little boat?" (I was pregnant at the time and this made me laugh thinking of putting my baby in it and floating him down the river like Moses.)
"What do you do with it?"
"Where did they come from?"
And then a woman came over to me and asked, "What are you planning to do with this?"
The dough bowls created quite the stir!
My only regret is that I didn't buy more. But, to answer the question of what I am doing with it, here's how I've been using it for Fall, as well as some other ways I plan to use it.
The possibilities are endless! But, as much as I love dough and baking, I can tell you I will not be using it for its original, intended purpose. That would just make too much sense.
Use under the Christmas tree and fill with wrapped presents
Fill with wool throws, blankets, pillows in the living room or any room where you need extra warmth for comfy, cold nights
Display on a table and fill with candles for dinner parties
Fill with loaves of French breads and assorted baked goods for brunch or a party
Use as a drink holder for bottles of wine or champagne
Create a centerpiece for Christmas full of live, mini pine trees – with or without lights
Treat as a giant tray and use for books, magazines, etc. on a coffee table or shelf
Use as a pot/planter and fill with succulents
Create a pot rack or a light fixture