I grew up going to the Shipshewana Flea Market in Northern Indiana, located in the heart of Amish country's rolling hills and dairy farms. It was a tradition each year, at least once a summer. The trip involved an early morning drive in order to get to the market before the summer sun became too hot and the crowds became too thick. My mom, sister and I would stop off and get coffee at McDonalds drive-thru and off we'd go with our oversize, straw bags to stash our anticipated treasures, passing the buggies on the two-lane highway along the way. We loved the hunt, the variety, the thrill of a hidden, timeless bargain, passed over by most for the cheap T-shirts with slogans such as "Get 'er done!" or the boxes full of $1 markers or chip clips. We knew what to look for and what to pass over. We walked the rows of dusty dirt, no shade to be found, perusing tent after tent of "junk" to find the rusted French iron planter or the weathered silver tray. We would stop for fueling and eat the Amish-made chicken sandwich or a piece of fresh rhubarb pie. We'd buy the carmel corn. We'd laugh at the tiny, fluffy dogs in strollers (why?) and the wooden signs with phrases carved into them for everyone's lake house about peeing in the lake and blessing the mess. Sometimes we found amazing deals. In fact, a French wooden chandelier from that flea market currently hangs in my office as I write this post. Sometimes we didn't find anything at all and we'd grumble about it being "the worst year for the market yet" – but we always had fun. It was the experience, the heat of the summer, the wandering and sifting, the people-watching and the anticipation of rummaging through a bin in a hidden corner and finding "the best deal ever", the piece of junk that one of us could see the potential in, the possibility. Isn't that the fun in life? Seeing the potential in the junk, searching for the tiny treasure in the mess, even if you never find it? It's the hunt we all enjoy. Finding something at the end of it is just icing on the Amish cake. My love of the flea continues. I've been to markets in London, Paris, Florence, Australia, the Old West, the dirty South, upstate New York, Peru, South Africa and beyond…but nothing will be the same as Shipshewana. I'll treasure those summer memories as much as I do my findings. And I'll always stop to take a second glance, a closer look, at something I think has potential.
Favorite flea market finds: inspiration for the "hunt":
Old, silver serving trays (just in need of a little polish!)
Garden accessories such as stone or wire urns, rusty metal buckets, iron candle chandeliers, bird baths
Lanterns to hang indoors, outdoors or rest on the floor or patio
Ceramic jars to display on bookcases or use as pots for topiaries indoors
Glass jars and vintage wine bottles or demi-johns to use for storage or as centerpieces
Vintage batik fabrics or throws, hand-made quilts
Wooden bowls, dishes and trays for kitchen display or to use as candleholders
Chandeliers – wood, iron, metal, crystal
Vintage dishes and wine glasses (think Anthropologie-style or something from your grandma's kitchen)
Vintage jewelry
Semi-precious stones – either in settings or loose (having a necklace made from a loose stone is still less expensive than buying it in a store)
Handmade wood furniture (the Amish do this so well) like stools, dressers, side tables and bookcases that just need to be stained or painted
Old door knobs, drawer pulls and hooks made of iron, glass or metal
Art – water colors or oil paintings by local artists; carved sculptures
Antlers – to hang or display on a coffee table or atop a stack of books
Copper – pots, buckets, bracelets…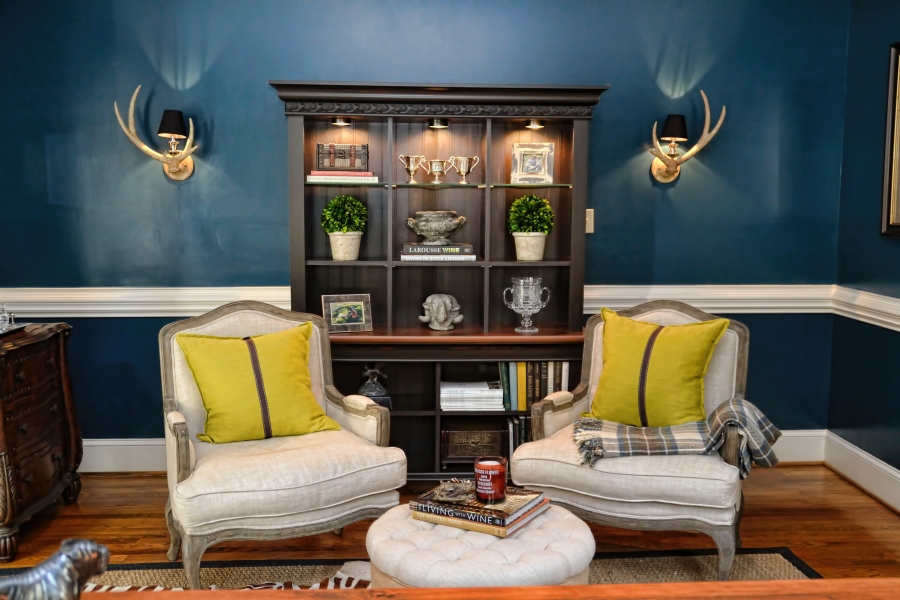 Welcome to B. Home!
My hope is that visiting our website and blog will be like visiting my home – you'll feel warmly welcomed, comfortable, relaxed and inspired. I want you to linger, spending time browsing and admiring, dreaming and conspiring how you will incorporate some of my favorite findings into your own home and life. I hope you are encouraged to enjoy life more – whatever that means for you, in your world, in your home. I hope you become a bit more relaxed in inviting people into your home, recognizing that perfection isn't necessary…or realistic. I hope you are motivated to do now the things you've been putting off, and I hope you accept that your version of "home" doesn't have to look like anyone else's – or please anyone but yourself. I hope you open your hearts and your doors to living a lovely life with a relaxed approach, appreciating the simple things and letting go of perfection once and for all. I hope one day we can meet over a glass of wine and remind each other that life's greatest pleasures are also the simplest and the least planned, they often happen naturally from a heart's desire to live a full, content life, and share that with others. I hope you can truly learn to B. home – and love it. Through my blog, you'll get a glimpse into my own home, the positives, and the not-so-positives, for we all know that a home is ALWAYS a work-in-progress – and that's part of the fun! You'll hear about my design struggles and goals, my frustrations and revelations. I plan to take you along on my many trips to explore cities, shops, hotels, and restaurants. I will be candid and honest about what I like and what I don't. I will sometimes ask for your opinion and guidance when I just can't seem to make up my mind (which sometimes does happen)! You'll learn to appreciate my quirky and sometimes sarcastic sense of humor (hopefully) and I hope to learn more about yours through comments, questions and concerns you might voice through this venue. Because, I too, want to get to know you. What do you like? What don't you like? I want to know your own design experiences and explorations, your travel and hosting adventures. This blog is only as interesting as you, the readers, make it. I am extending my home to you, through this blog, and I truly hope you find it to be a little piece of home in your own.
All the best,
Brianna